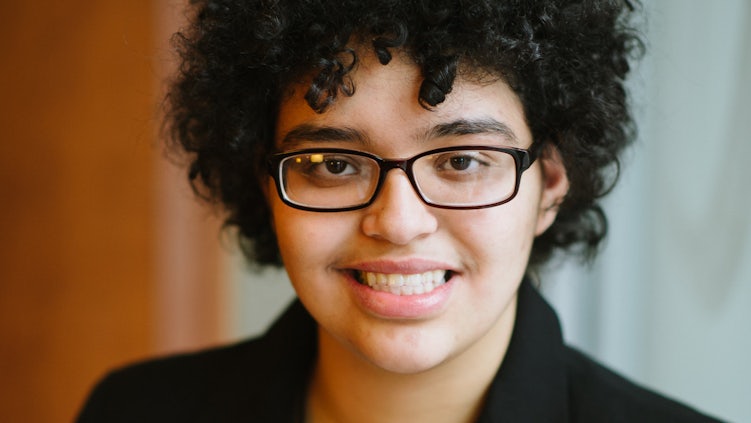 Caroline & College Prep: Making Dreams A Reality
At 18, Caroline Haoud was a master at making the most of her time and seizing the opportunities life presented. It is just one of the reasons why she nabbed two major national college scholarships—the Gates Millennium and the Ron Brown Scholarship—before being accepted to Columbia University in New York City. 
Her relationship with The Door started with a perfect twist of fate; she met one of our College Advisors, Briana Avery, at a workshop for the Gates Millennium Scholarship. After a great conversation, Briana suggested that Caroline come to The Door to get some help preparing her college and scholarship applications. "I looked at The Door as a quiet place to work. I could come here and have access to the computers and printers and complete my college applications and homework assignments. However, being a member of The Door is more than that," Caroline said. "Bri has really driven me to get everything done, even when my tasks list seemed dauntingly long. Briana would say, 'We're going to work on this now.' and that is exactly what we did. Briana helped me keep everything in order and made sure I knew how to prioritize my schoolwork, scholarship applications, college applications and financial aid forms." 
With a bit of Briana's guidance and all of Caroline's skill, knowledge, and dedication, Caroline applied to over 20 different colleges and countless scholarships. She was accepted to most of her colleges, including her first choice—Columbia University—but the biggest news was yet to come. A few weeks later, Caroline was invited to Washington, D.C., for a finalists' interview for the Ron Brown Scholarship—a highly competitive program focused on supporting African American students with outstanding academic and leadership skills. and. The same day as the interview, all of the finalists were taken to dinner, where Briana received the surprise of her life. The Ron Brown Scholarship finalists has been told the final decision wouldn't be made for several days, but the program leaders announced the Ron Brown Scholarship winners that very night at the finalists' dinner—Briana among them. When the President of the Ron Brown Scholars Program delivered the news, Caroline could not help but tear up, hug the other scholars, and call her mom to share the good news. 
Her confidence notwithstanding, Caroline did have a moment of doubt when she was submitting that application. "They say you miss 100% of the shots you don't take. I almost did not apply, but I am glad I did… what are the odds, I thought?" The odds are, in fact, slim: The Ron Brown Scholar Program acceptance rate is less than 1%. Caroline was one of only 28 scholars chosen, out of a pool of more than 5,200 applicants.  "I am glad I took my shot. Look at how it turned out! You just have set your mind on a goal and put in the work," she said. 
Caroline's successes kept coming. One month later, she received word that she had won the Gates Millennium Scholarship, given to students of color who serve as leaders in their community and demonstrate academic achievement despite socioeconomic obstacles.   
Remarking on Caroline's success, Briana said, "She's a dream to work with as a college counselor. Her ambition and relentless drive remind us of the endless potential young people have when they are empowered to engage with their dreams, education, and community. Her acceptance to Columbia University, two major scholarship wins, and graduation from high school with an associate degree are all a testament of this." 
Caroline herself attributed her success as much to the help she received along the way as to  her skills and intelligence. "If I had not joined The Door, my college application experience would have been different," she said. "The Door has such a warm and welcoming environment, and I am grateful that I had a community and a support network that encouraged me to make my dreams become a reality." 
After graduating from Bard High School Early College Queens and completing her Associates of Arts degree, Caroline was more than ready to start her new journey at Columbia, with her eyes set on pursuing an M.D./Ph.D. degree and becoming a medical doctor.  
Learn more about our Career and Education opportunities here.