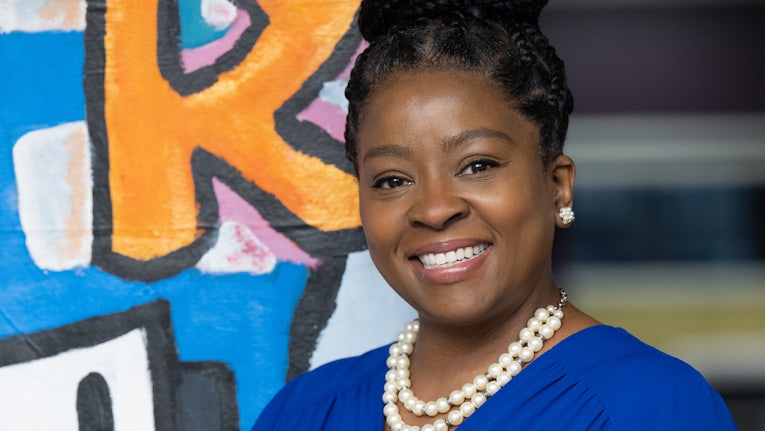 Renee McConey: Expanding Health Access & Partnerships
When asked to describe The Door, Managing Director of Health Services Renee McConey replied with a smile, "It's just like coming home. A lot of staff have been here a long time, and that speaks to the fact that we all just want to be here."  
Renee's easy demeanor speaks to her decades of experience working with young adults and teens, and a comfortable familiarity with who we are and what we do—what she does as part of the team.  
"I grew up in Brooklyn and have spent most of my life in the city. I've known about The Door since I was young, actually. I had neighbors who went, classmates—it's always been here," she said.  
In her professional career, Renee served in several leadership positions at other organizations—including Regional Director of a Planned Parenthood affiliate in Nevada and the Vice President of Medical Services in Central and Northern New Jersey—but she had a feeling she'd return to New York City—and was excited when an opportunity at The Door arose. 
"When I saw the open position here, I was thrilled," she said. But, you know, it said the position was closed! I was disappointed, but I had this feeling… I went for it. I just knew this was the right place for me. I'm so passionate about public health education and reproductive health, and that's such a critical part of this job. It felt so dear to me." Luckily for The Door, her feeling was dead on: She joined the team and has been making amazing things happen at The Door's Adolescent Health Center (AHC) ever since. 
Her dedication to progress, especially in trans health care, reproductive health, and education, is one of the key factors that makes her such an excellent fit for The Door and AHC. "I must've been a teacher in another life, I swear. I really enjoy helping young people. We just don't talk about reproductive health enough; they don't hear it from their other providers, or from their parents or schools. They need to hear it, because reproductive health is so much more than you'd think. It's about smart life planning and setting goals, making sure that you take the right steps to get where you need to be."  
Renee brings this holistic approach to health care to the forefront of the AHC, helping it integrate with The Door's many other programs and services. 
Health professionals who are used to a more traditional health clinic environment might be daunted by the extensive list of other services available to Door youth members, but Renee views that comprehensiveness as an asset. "I like to see challenges as opportunities. How can we increase access? How can we break down some of these barriers so that the young people who come here get everything they need, when they need it? That's what The Door has always done, and what I'll continue to push with the Center," said Renee. "I'm always thinking innovation and progress in a positive way, and that's really what The Door stands for." 
Learn more about the services we offer at our Adolescent Health Center here.