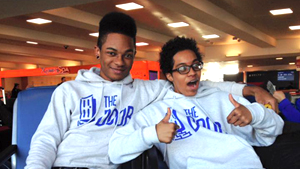 Cheyne, Cam & Supportive Services: Brothers Finding Their Voices
When brothers Cheyne and Cam came to The Door for stable housing and college preparation, they never expected that would take them across the country to Denver, Colorado, to participate in a national conference with nearly 4,000 other people. At 19 and 21 years old, Cheyne and Cam became Door members, joining the LGBT Theater Alliance to find an additional space where they would feel safe to grow and create. Their personal growth was so remarkable, they were chosen by Supervisor for Training and Community Engagement Elise Schuster to represent the theater alliance at a major national LGBTQ conference, Creating Change. 
Creating Change is the largest annual gathering of activists, organizers, and leaders in the LGBTQ movement in the country. Many participants are professional social workers, and the conference can be intimidating to young people or those without a professional background. 
Despite being out of their comfort zone, both Cheyne and Cam embraced the experience. "I learned a lot about expressing my opinion without judgment, and about doing my part to speak my mind to shed light on issues that affect me as young person that some of the others might not have known about," Cheyne said. "I learned how to overcome a lot of barriers, and I know I'm bringing that back with me to my life overall. I also got to learn more about how to spark leadership and empower other people my age, which was really interesting," Cam added. Cam, a member of The Door's Youth Council, also noted that he felt many of the lessons he gathered from the conference would help him be more active and outspoken. 
"I was just so proud of them speaking up in a forum that really could have closed them down. It can be really intimidating, and they did such a great job," Elise said of the pair. She was especially proud of their role in the group meetups after the workshops had ended for the day; every night, a group of young people who were involved in LGBTQ theater had meetings to decompress and share their experiences. Cam and Cheyne helped set the meeting agendas, coming up with innovative games and activities for the group to play, to help them examine important social issues, like power dynamics. 
"I think the whole thing really opened me up. I was closed off to a lot. But now, I want to open people's eyes. I want people to understand that we can fight together for what's right, instead of doing it at the expense of other people," Cheyne said. Cam added: "Conversations don't have to be debates. You can listen to someone and respect their opinion but disagree with it. It was a huge lesson for me. I want to be an activist, to help people fight the systems that oppress us. I want to inspire unity." 
In addition to joining Youth Council, Cam also kicked off a collaborative Women's History Month project: Participants hung sheets of paper describing what feminism meant to them in Center Space. His long-term goals involve starting an academic path to become a social worker.  
Creating Change enabled Cheyne to understand what's needed to create a strong vision and inspire others, lessons that will support his journey to becoming a dance instructor or an English teacher. Both Cam and Cheyne know that those strategic abilities will continue to fuel their growth as positive changemakers no matter what they do in the future. 
Learn more about our Supportive Services here.